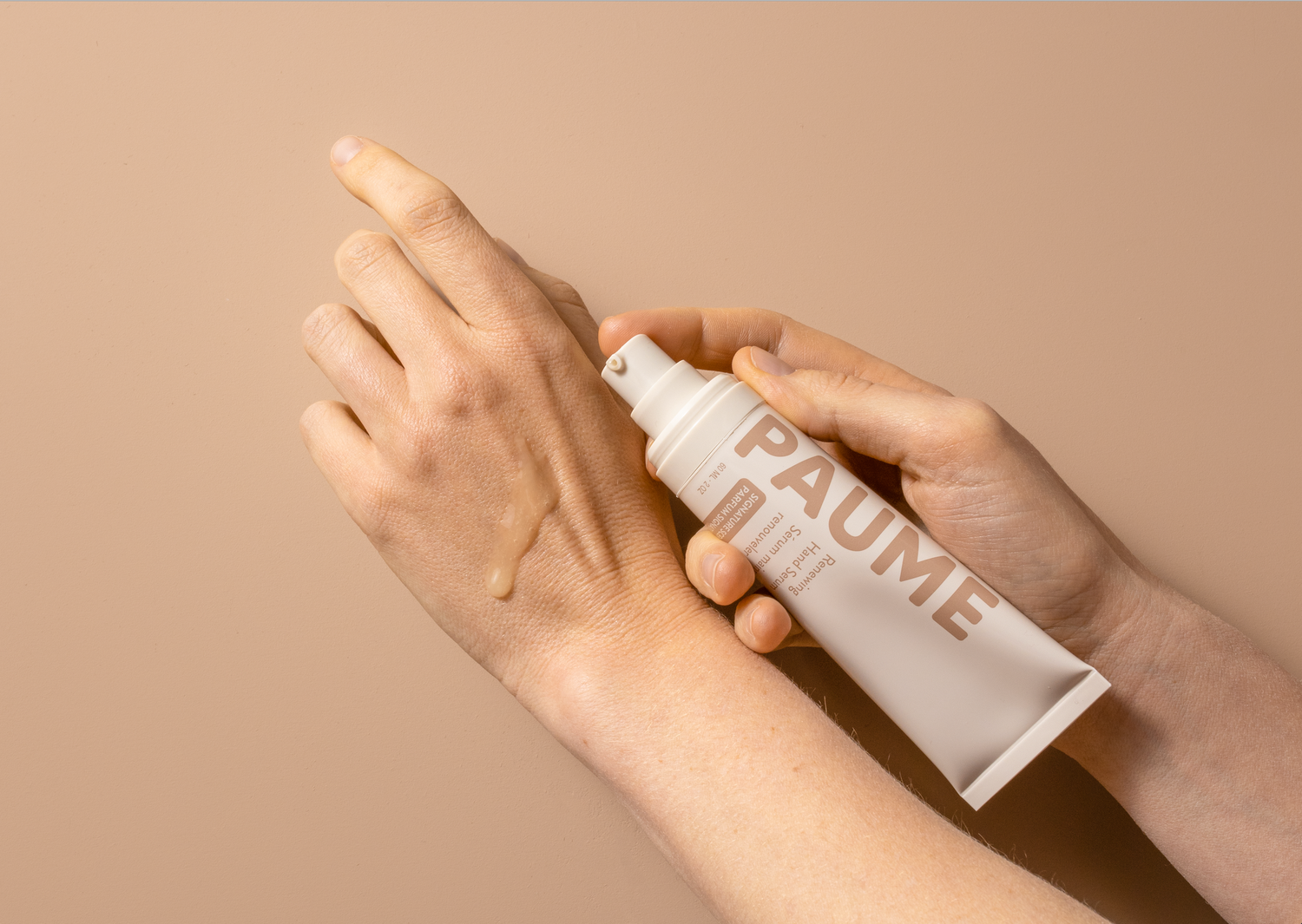 Prevent and reverse the signs of aging in your hands.
Our hands are our most exposed body part other than our faces. Brown spots, crepey texture, dry skin and fine lines show are appearing prematurely. Our hands deserve a skincare routine.
Shop PAUME
A skincare routine for your hands.
Exfoliate & Cleanse

Gently daily exfoliation can improve skin tone and texture, keep bacteria at bay, keep nail beds clean and improve the absorption of your skincare products.

Hydrate & Strengthen

Daily hydration is key to keeping the skin smooth, soft and protected. Hydrated cuticles and strong nails are key polished youthful hands.

Repair & Renew

A multi-benefit serum to address all the signs of aging in one daily dose. Fade age spots, reduce fine lines and improve skin tone and texture for smooth, youthful hands.
SHOP PAUME
Upgrade your hand care routine:
$42
Renewing Hand Serum
Fight the signs of aging in your hands with this potent daily serum. Active ingredients like Vitamin C, Gallic Acid, Niacinimide and Bakuchiol extract fade brown spots and visibly improve skin tone and texture with daily application.

$104$96
Age Defying Trio
Save $8 and free shipping! Youthful hands are within reach: achieve hydrated skin, improved tone and texture, brighter skin and strong healthy nails with the All in One Nail and Cuticle Cream, the Probiotic Hand Balm and the Renewing Hand Serum.
$72$66
Polish & Renew Duo
Save $6 with this bundle! Achieve smooth and youthful hands with this powerful duo. Exfoliate, hydrate and cleanse your hands to enhance the absorption of the Renewing Hand Serum, which minimizes the signs of aging in your hands.

All of our tubes and bottles are made with at least 65% previously recycled plastic. In partnership with rePurpose Global, for every unit sold, one plastic unit will be pulled out of landfills, waterways and marine environments to be recycled and repurposed.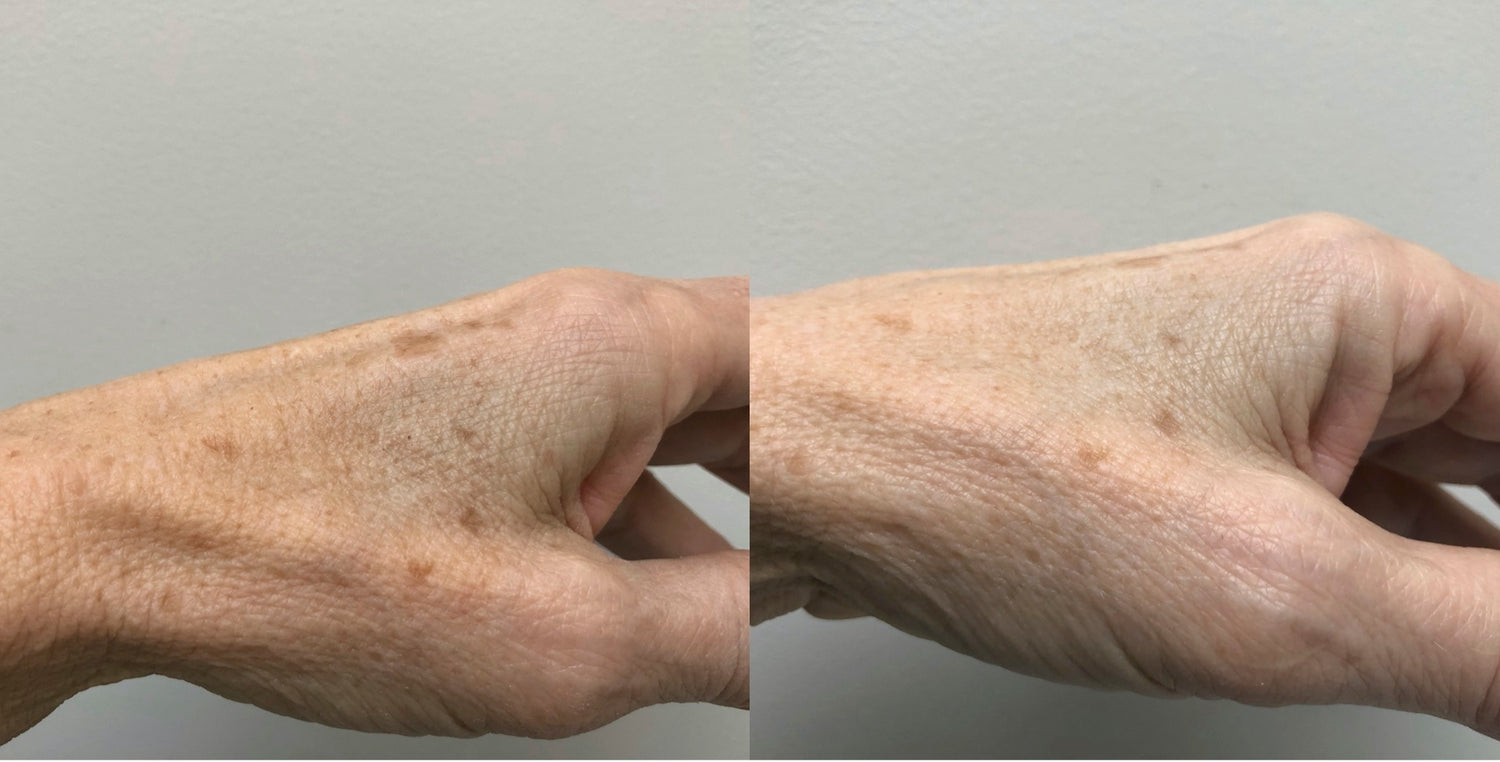 Sarah, Age 67
"I'm addicted to this serum. After only a few weeks of use, I noticed visible fading of my brown spots and a dramatic improvement in my skin's texture. My hands are so soft and it's taken years off my hands."
SHOP PAUME
*photo shows before and after results with 3 weeks of use daily use.
What our product testers have said...
Vikki, Age 58

The PAUME hand serum is amazing. After using it for three weeks, there is a noticeable difference in my age spots. I'm also impressed with how soft it makes my hands. Wonderful in every way!

Shannon, Age 52

I began to notice brown spots and wrinkles on my hands in my mid forties. This serum is a game changer. After only two weeks of use I saw a huge difference in the texture of my skin and my spots have faded significantly.

Rachel, Age 48

After years of neglecting my hands, I started to notice how much older they looked compared to my face. It only took a week for me to see the results of this serum. I was amazed at how quickly it worked to brighten my skin and make them look more smooth and hydrated.
Potent ingredients, visible results.
Bukuchiol Extract
A natural Retinol alternative that stimulates skin cell turnover and improves skin tone and texture.
Niacinamide
Brightens the skin and refines the appearance of pores.
Diglucosyl Gallic Acid
Visibly reduces the appearance of brown spots and brightens the skin.
Vitamin C
Reduces hyperpigmentation and brown spots, while visibly brightens the skin.